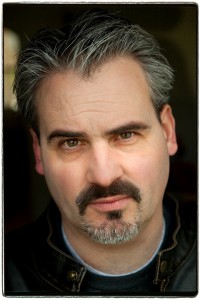 That's me right there from a couple of years ago. I had some head shots done for a book cover.
I've been associated with AT&T Labs for nearly my whole career in various ways. Right now, I'm a contractor there, helping to build an infrastructure to manage the complex operational challenges of installing and maintaining large telecommunications applications in a Kubernetes environment. Before that gig, I was a technical writer at Canonical, the company that makes Ubuntu Linux, my operating system of choice. Early in my career, I was a game designer for Merit Industries and built three games, Hooter, Quik Cell, and Pile On. They could be found in bars and even cruise ships all over the world. In addition, I've written guitar education software for macOS and iOS.
I started writing fiction when I was just a pup and never grew out of it. After paying my dues honing my craft, I landed a standard book contract with a now-defunct publisher in New Hampshire. We did two books before they went under (Dead of Wynter and Lovesick). A couple of years later, I  dabbled with self-publishing on Amazon KDP.
Before all that, I attended Berklee College of Music with my heavily customized Gibson SG for a couple of years in order to learn just enough jazz theory to start making sense of whatever Frank Zappa compositions I happened to be obsessed with at the time.